Born in Country Victoria, Michael Wolff became interested in hair after being offered a hairdressing apprenticeship at the age of 17.
After completing a 4-year apprenticeship Michael traveled to gain more knowledge and experience where he then benefited from the old school training and successfully competing in hair competitions.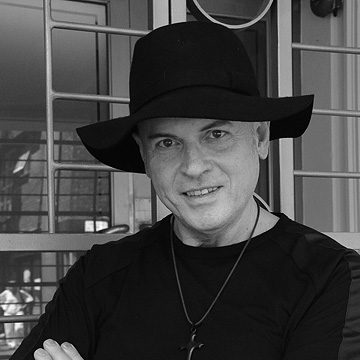 This was to strongly shape Michael's future in his hairstyling career.
Michael moved to London during the early 1980's to continue his dream and passion. Michael's dedication brought him to work alongside some of the best hairstylists in London.
Michael worked with the Corbella family and traveled the world with them working on assignments such as international hair shows and seminars. Michael assisted Beverly ad Anestis on many photo shoots in London.
The time had finally come for Michael to open his first Salon in Sydney in 1990. Michael's trademark is his personalised service. A visit to his Potts Point Salon is an immersive experience as every service is done by Michael himself.
---

HAIR UNLIMITED
Published by Wolff and Mills Beauty Publishing and created with photographer James Mills, Hair Unlimited, the book celebrates Michael's core values as a hairstylist.
Hair Unlimited is a limited-edition collectable coffee table book of hairworks with 154 pages of beautiful black and white beauty and the occasional splashes of colour pages.
The book was launched on 13 October 2021.
---
"For almost thirty years i have been a client of the Michael Wolff salon. His artistry with scissors and an excellent eye for personal style continues to give me a confidence in my appearance that a busy professional life demands. He understands that not only is it essential that a style and cut be flattering and up to the minute but that it can be achieved day after day especially when away from Sydney for long engagements. Michael Wolff represents excellence in his profession."
Nancy Hayes AM
"I've been coming to Michael Wolff for my cut, color and special event updo's since before I NEEDED to dye my hair! My only wish was that he had followed me to Los Angeles 5 years ago to stop me having to return to Aus to get my hair done! He's a master of cut and color, and knows how to provide just the right the thing to make a woman look and feel great. He's shared every big moment with me over the past 30 years, as they all required the hair to look great, and I've always relied on him to strike just the right tone!"
Ella
"Michael Wolff. The guy is amazing. I have been going to Michael for 22 years. I can honestly say he has never let me down. I always walk out feeling good about myself. Michael is modern, innovative and classy. He is kind, generous and a true gentleman."
Dom Williams
"I have been a client for 30 years. After all this time I just walk in sit down and Michael takes care of me. I always leave the salon with a new hairstyle every time and I am always more than happy with the cut and colour. It never ceases to amaze me how many compliments I receive between appointments, the cut grows out timelessly always emerging into a new style."
Terri Bradley
"Michael gave me my first haircut when I was two years old, and for the last 26 years that hasn't changed. Every haircut I've ever received from Michael has always been met with a flood of compliments and has always grown out perfectly. Literally every important event in my life has been accompanied by a haircut from Michael and I couldn't imagine changing a thing. Michael is a perfectionist in his craft, a fantastic person and a good friend; I wouldn't hesitate to refer anyone to Michael that wants the best as I always leave feeling confident and on top of the world."
Dylan Harrison